Birmingham: Rubbish for meetings, good for shoes
This morning I had to catch a train at the ridiculously early hour of 8:43 in order to attend an A-Level meeting in Birmingham. The meeting was exceptionally dull, although at one point I almost livened it up for everyone by being very tempted to slap someone who was asking stupid questions and wasting valuable shopping time.
After the meeting finished at 1pm I wandered into Birmingham where I bought some nice shoes, shown below: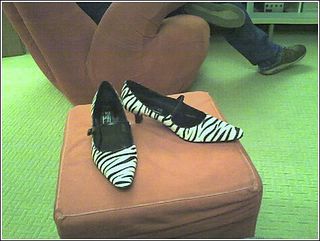 I also bought some toasty warm jumpers in the sale for wearing when I go on the weekend canal boat extravaganza. Apparently it is going to be -7 degrees C. Lovely.
PS. If you work with me and happen to be reading this, the shopping bit is a lie. The meeting went on until 7pm and you are lucky I'm not claiming overtime payment for it.